Submitted by Paulene Christie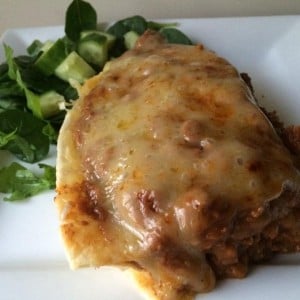 Mexican Beef Tortilla Stack
Ingredients
500g ground beef mince

1 x 435g can of refried beans (I used Old El Paso brand)

1 x 35g taco seasoning powder sachet

4 ripe tomatoes diced

5 tortilla wraps

Grated tasty cheese - 2 cups approx

Ground paprika
Instructions
Combine mince, beans, seasoning and tomatoes in slow cooker and mix well.

Cook on low for approximately 4hrs.

When complete it's time to assemble the tortilla stack.

This can be done in an oven dish if you don't have a smaller slow cooker but I assembled mine directly into the bowl of a 3L slow cooker.

Lay down one tortilla wrap.

Top with 1/5 of meat mixture.

Sprinkle with 1/3 cup of grated cheese.

Lay another tortilla wrap over the top and press down.

Top with 1/5 of meat mixutre and 1/3 cup grated cheese. Lay another wrap and continue this process until all used.

On the final layer I topped with 2/3 cup of cheese for extra cheesy top.

I then sprinkle a small amount of ground paprika over the cheese (it gives that browned appearance to cheese in slow cooking)

Cover and cook on high for approx 45mins or until heated through and cheese melted.

If you are doing this stage in the oven dish instead of the smaller slow cooker, I would bake in a moderate oven for approx 30mins or until heated through and cheese melted.

Serve slices of the stack with fresh garden salad.