A super easy 'cheats' version you can prepare in literally under 3 minutes
Submitted by Paulene Christie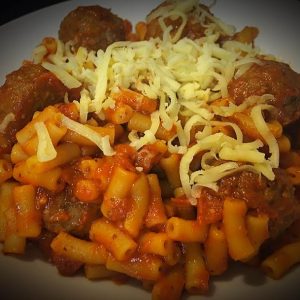 Macaroni Meatballs in Minutes!
A super easy 'cheats' version you can prepare in literally under 3 minutes
Ingredients
2 pkts of 20 ready-made small meatballs (raw or cooked - see notes below in method)

1 x 700g large pasta sauce

250g uncooked macaroni

1 and 1/4 cup boiling water
Instructions
The entire purpose of this meal is to make it in minutes.

Sure you can make your own meatballs (I usually do) ... but this one is specifically for those days you literally have no time!

For this recipe we are dealing with the raw, ready made meatballs that you can buy from the supermarket

(in Notes below I will also explain the option of cooked, ready made meatballs in this recipe instead)

Place raw meatballs directly into the slow cooker bowl

Pour over pasta sauce

DO NOT STIR - If you don't stir until the end of cooking time they won't fall apart.

Leave to cook on low for approx 4hrs

Stir gently to mix

Add macaroni and boiling water and stir gently to combine

Continue to cook on low for approx 30mins only or until pasta is cooked to your liking.

Pasta will absorb much of the liquid in your dish - that's why we add extra water at this stage but the end dish will not be watery

If you dish dries out too much you can always add a splash more hot water

Serve straight from the slow cooker with a scattering of grated cheese for a super easy dinner!
Notes
You can also cook the pasta separately if you prefer and just stir it through at the end prior to serving

You can also use ready cooked meatballs, just reduce cooking time to 2hrs on low instead