Submitted by Kriss Dainer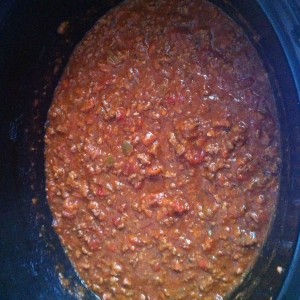 Hidden Veg Spaghetti Sauce
Ingredients
1kg mince

1 large onion

2 carrots

1 zucchini,

2 celery stalks,

2 tsp minced Garlic

1 can diced tomatoes

2 Tbs Worcestershire sauce

1 Tbs tomato paste

2 Tbs tomato sauce

1 tsp mild chili sauce

1 cup beef stock

2 Tsp corn flour & 1/4 cup water (to thicken)

Salt & pepper to taste
Instructions
Brown mince in frying pan & drain off oil, put in slow cooker.

Add beef stock, tomato paste, 1 can of diced tomatoes & W/sauce stir in with beef mince.

Grate all veggies & add to slow cooker, mix garlic & chili together & add to slow cooker.

Stir well & cook on high for 2hrs, low for 4-5hrs,

Thicken at the end of cooking time with corn flour mixed into a little water.

Taste to see if more salt or pepper is needed to your own taste.

Recipe can also be converted to Gluten Free,

Just use Gluten Free Corn flour & Worcestershire sauce.