Submitted by Paulene Christie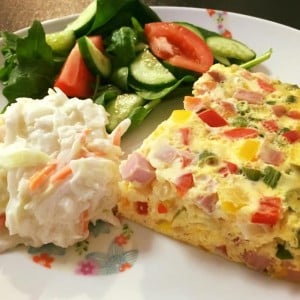 Ham and Cheese Vegetable Frittata
Ingredients
10 eggs

2 ham steaks (diced) 200g

1 cup grated cheddar cheese

1/2 red capsicum, diced

1/2 yellow capsicum, diced

1 tomato diced

1 small onion, fine diced

3 shallots/green onions
Instructions
Whisk eggs in large bowl

Combine all other ingredients and fold through eggs

Line slow cooker with non stick baking paper

Pour in egg mix and cook with tea towel under lid on HIGH for 1hr 30mins in my 5L Breville

Cooking times may vary so test that egg is cooked through before removing.

Lift up and out by baking paper and slice to serve.

Delish with a side salad and coleslaw or sliced into squares for lunchboxes or party bites.