Submitted by Robyn Clark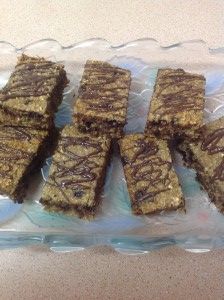 Easy Quick Go Breakfast Bars
Ingredients
2 1/4 cups rolled oats ( blend 2 cups to resemble flour and reserve the 1/4 cup )

1/2 teaspoon baking powder

1/2 teaspoon bicarb soda

1/4 teaspoon salt

1 teaspoon cinnamon

1/4 cup coconut

1 sweet variety Apple ( I used pink lady variety ) or substitute with 1/4 cup applesauce.

3 medium ripe bananas

2 teaspoons vanilla

1/4 cup honey

1/3 cup small dark chocolate chips.
Instructions
Blend the 2 cups of rolled oats until it resembles a flour consistency .

Place in a bowl and add the other dry ingredients , this includes the 1/4 cup of un blended oats( except the choc chips)

Blend together the bananas , vanilla, cored and peeled Apple and honey.

Add to the dry ingredients and mix until combined. Fold in the choc chips.

Line your SC with baking paper and lightly spray. Spread the batter to fit your cooker size, or alternately you can place the batter in a cake tin or any size tin that fits.( when using tins I raise them up on egg rings, no water)

Cook on high ( pre heated SC) approx 45 mins. It's cooked when slightly brown and skewer comes out clean. Cool and then melt some chocolate and drizzle over the bars. ## freezes well , individually wrapped . Store in fridge if not freezing. Warm 30 secs in microwave for a quick breaky on the run.