Submitted by Paulene Christie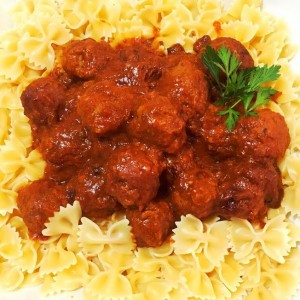 Curried Meatballs
Ingredients
Meatballs
500g lean beef mince

1/2 onion, grated

1 egg

1/2 cup fine breadcrumbs

Cracked black pepper to taste (approx 1tsp)
Sauce
1/2 onion, grated

1.5 cups hot water

2 tsp beef stock powder

2 tbsp tomato paste

2 tbsp fruit chutney

1 tbsp curry powder
Instructions
Add all meatball ingredients to a large bowl and combine well.

Wash and dry hands.

Using hands form golf ball sized meatballs from the mix.

Mine made 22 meatballs.

(these could be made the night before and stored in fridge if you prefer)

Gently place meatballs straight into slow cooker.

Combine all sauce ingredients in a jug and pour gently over meatballs

Turn slow cooker onto low and cook for approximately 3hrs (some slow cookers may need a little longer, just ensure meatballs are cooked through by testing one if you are not sure)

Just prior to serving I gently turned each meatball over in the sauce to ensure good coverage.
Notes
DO NOT STIR or move around meatballs during cooking as they could break.

Gently serve meatballs to ensure you don't break them apart.

I served mine on bow-tie pasta with a side of green vegetables

These have quite a curry kick to them (I would suggest medium heat). You could reduce the amount of curry powder in the sauce or serve without sauce for young ones or those who don't like too much heat.

Cooked in a 5L Russell Hobbs cooker

Enjoy!