A super easy, super tasty, super creamy laksa inspired chicken recipe. JUST 3 INGREDIENTS – how easy is that – super easy! 🙂
Submitted by Paulene Christie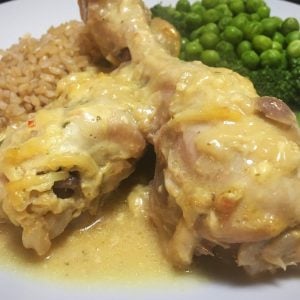 Cup-o-Laksa Creamy Chicken
A super easy, super tasty, super creamy laksa inspired chicken recipe. JUST 3 INGREDIENTS - how easy is that - super easy! 🙂
Ingredients
10 chicken drumsticks

300ml cooking cream

2 x sachets of Asian Laksa cup of soup (I use Continental brand) - dry, no water added
Instructions
Place raw chicken in slow cooker

Combine cream and 2 x dry soup sachets well and pour over chicken

Cook on low for approx 5hrs
Notes
I served mine with brown rice or cauliflower mash and green veg

No water added to soup mixes - add them dry

Cooking cream is a pouring type cream that resists splitting over heat. I use Bulla brand.

You could swap out the drumsticks for any cut or fillet of chicken you prefer

It produces plenty of nice thick, creamy sauce to serve over your chicken and side dishes

You could also shred the chicken, remove bones and stir just the meat through the sauce if you rather

Only a mild Laksa flavour, not spicy, so very suitable for the whole family

This is intended for a quick, easy throw with simple ingredients - a huge success with our kids too!