Submitted by Christy Roth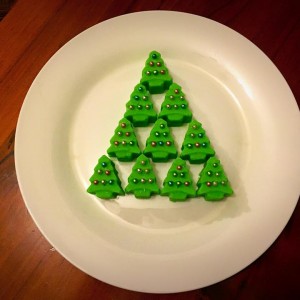 Christmas Tree Fudge
Ingredients
600g White chocolate

1 tin condensed milk

Green gel food colouring

Silver/coloured cachous
Instructions
Put chocolate and condensed milk into slow cooker and cook for 1.5 hrs on high stirring every 10 minutes with the lid off.

At the completion of cooking time, add around half a dozen drops of green gel colour (more or less as per your preference to colour) and stir gently but thoroughly to ensure an even distribution of colour.

Spoon mixture into into silicon Christmas tree moulds (no need to oil) and place on a bench top for approximately half an hour to cool, then transfer for the fridge for a further two hours (or more).

After this time has elapsed, supporting each tree, pop the fudge shapes out onto a plate and put decorative side up. Put cashous in place and push gently to make them stay.

You can change up the recipe by making any variety of fudge you choose, just be aware that the Christmas tree moulds are quite fiddly and as such it is probably best to opt for a variant without large lumps so as to ensure you maintain the integrity of the Christmas tree shape.