Just 4 Ingredients in this low carb pulled chicken!
Submitted by Paulene Christie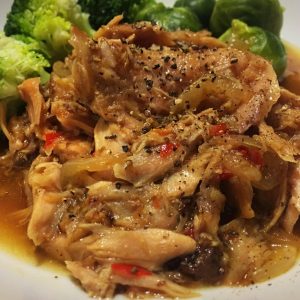 Chilli Chicken Kicker - LOW CARB
Just 4 Ingredients in this low carb pulled chicken!
Ingredients
2kg chicken drumsticks (16)

1 x 40g packet french onion soup

2 large onions sliced

1/2 cup of low sugar sweet chilli sauce (I prefer the Ayam brand)
Instructions
Place raw chicken drumsticks and sliced onions into the slow cooker

Sprinkle contents of dry soup mix over the chicken

Pour sauce over the top, spreading it around as much as you can as you pour it

Cook on low for approx 5hrs

I then removed chicken from the cooker, removed bones from chicken and returned just the chicken meat back to the pot to cook for another 30 minutes prior to serving
Notes
Served mine with broccoli and Brussels sprouts for a low carb side.

For those not counting carbs it would be great also with rice or mash and veg

The chilli sauce has a little bite to it but it you like the sauce on it's own then you'll like the resulting heat in the dish - my 3yr old ate it no problems so it's not overly hot

Budget friendly to feed a crowd and just 4 ingredients makes it super easy!