Submitted by Paulene Christie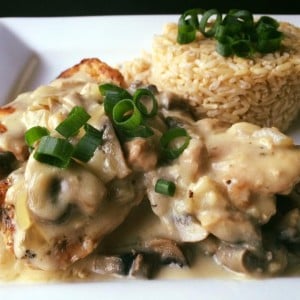 Chicken Fricassee
Ingredients
1kg skinless chicken thigh fillets

2 tbsp plain flour

1 tbsp butter

1 onion, chopped

2 cloves garlic, minced

250g button mushrooms, chunky cut

1/4 tsp dried thyme

1/4 tsp dried tarragon

Salt and pepper

1/2 cup white wine

1/2 cup chicken stock

150ml cooking cream

1 tbsp cornflour + 2tsp water
Instructions
Place chicken thighs and flour into a clean plastic freezer bag and secure tightly (leaving air in bag) and shake to flour chicken pieces.

Sear floured chicken in butter until sealed and slightly browned. I did this in my searing slow cooker, or you can do it on the stove top. Transfer sealed chicken to slow cooker.

Add onion, mushroom, garlic, thyme, tarragon, S&P to slow cooker.

Combine stock and wine and pour over.

Cover and cook on low for 4-5hrs approx.

Prior to serving, remove chicken with slotted spoon and set aside.

Mix cornflour with 2 tsp water to form smooth liquid.

Return searing slow cooker to hotplate (or transfer sauce to saucepan on stove) and add cream.

Add cornflour mix and stir over heat for approx 5mins until nice thick sauce consistency is achieved.

Serve chicken with sauce poured over.

Serve on brown rice or on creamy mashed potato, with steamed vegetables.