Submitted by Denise Roberts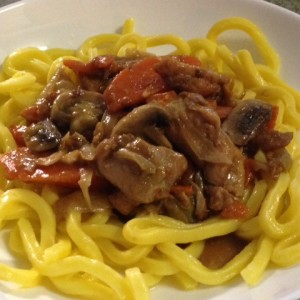 Chicken Chow Mein
Ingredients
350g packet fresh chow mein noodles (or Hokkien noodles)

2 teaspoons cornflour

2 tablespoons soy sauce

2 tablespoons oyster sauce

1/2 teaspoon sesame oil

1 1/2 tablespoons peanut oil

400g chicken thigh fillets, thinly sliced

1 medium brown onion, cut into wedges

1 small carrot, peeled, sliced

1 garlic clove, crushed

1cm piece fresh ginger, peeled, grated

410g can whole baby corn spears, drained, halved lengthways

100g cup mushrooms, sliced

1 small baby wombok (Chinese cabbage), trimmed, roughly shredded

3 spring onions, cut into 5cm lengths
Instructions
Place chicken, onions, carrot, spring onions, wombok and baby corn into the slow cooker.

In a bowl combine; ginger, garlic, cornflour, soy, oyster sauce, sesame and peanut oil.

Pour sauce over chicken and stir. Cover and cook for 4hrs, low.

1 hr before serving add mushrooms.

10 mins before serving prepare noodles as directed on package (put to side).

Divide noodle between 3-4 bowls and pour chicken and sauce over the top.

Note: Cooked in 5.5L Contempo SC which cooks at a higher heat. Times may vary.