Submitted by Alanna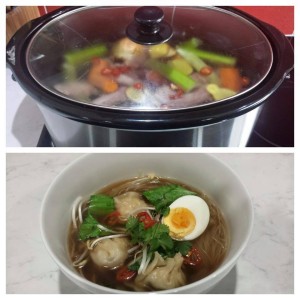 Chicken broth with chicken & corn dumplings
Ingredients
For the broth
1kg chicken necks (i got mine from woolworths)

2 carrots, cut in half

4 sticks celery, roughly chopped

1 long red chilli, chopped

4cm piece ginger, sliced

1 onion, halved

4 cloves garlic, chopped

1/4 cup soy

finely grated ginger, extra

3tbsp fish sauce

Salt to taste.

250g chicken mince

3tbsp oyster sauce

1/4 cup frozen corn

Wonton wrappers (I got mine from cold section in Woolworths)
Instructions
Broth
1kg chicken necks (i got mine from woolworths) 2 carrots, cut in half

4 sticks celery, roughly chopped

1 long red chilli, chopped

A 4cm piece ginger, sliced

1 onion, halved

4 cloves garlic, chopped

*Place all ingredients in sc, cover with water. Cook in sc on low for 8+ hours. Once cooked strain through a tea towel and put back in sc, set to high. Add 1/4 cup soy, 2cm piece finely grated ginger, 3tbsp fish sauce and salt to taste. Cook for further 10mins.
Dumplings
250g chicken mince

3tbsp oyster sauce

1/4 cup frozen corn

* mix all ingredients together. Lay store bought wonton wrappers on bench (I got mine from cold section in Woolworths), add a teaspoon of mix and place in centre of wonton skin, brush water around edges and bring all sides together and pinch them tight (they will look like little money bags). Don't worry if they split a bit, they will still be fine. Pop them into hot broth, once they are cooked they'll float.

Serve with whatever you like. I served with cooked rice noodles, boiled egg, coriander, chilli, cabbage, pak choy and bean sprouts.