A sure fire hit with the kids!! Also great for entertaining or party food at your next fun occasion 🙂
Submitted by Paulene Christie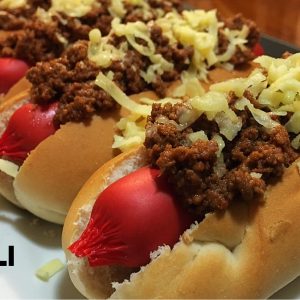 Cheesy Chilli Dogs
A sure fire hit with the kids!! Also great for entertaining or party food at your next fun occasion 🙂
Ingredients
1kg regular beef mince

2/3 cup liquid beef stock

140g can concentrated tomato paste

1/3 cup of tomato sauce/ketchup

1 cup tomato Passata (see notes below)

1 tsp onion powder

2 Tbsp Worcestershire Sauce

2 tsp ground chilli
To Serve
Hot Dog buns

Hot Dog wieners

Grated tasty cheese
Instructions
Add mince and liquid stock to slow cooker

Using a plastic potato masher (so as not to scratch your bowl) mash the two together - this makes a nice fine mince in your final dish to serve on your hot dogs. If you don't have a plastic potato masher then do this step in another dish then add to slow cooker

Add remaining ingredients to your slow cooker and stir well to combine

Cook on low for 5hrs

Pour chilli through a fine strainer to remove liquid and leave you with just the chilli meat
To Serve
Split hot dog buns, top with warm wieners then 2-3 Tbsp of chilli over each dog

Sprinkle generously with grated cheese
Notes
While the chilli in the slow cooker had some heat to it, once drained of liquid I found it suitable for our children and only mildly chilli. If you are concerned though you could always reduce your chilli powder to 1.5tsp instead.

Passata is uncooked, crushed and sieved tomatoes. Usually, high quality ripe tomatoes are used for passata, resulting in a well flavoured tomato base that is generally superior to standard canned tomatoes.

Served enough for 24 chilli dogs - we used half of the mix for 12 dogs and froze the other half for another night.