Submitted by Paulene Christie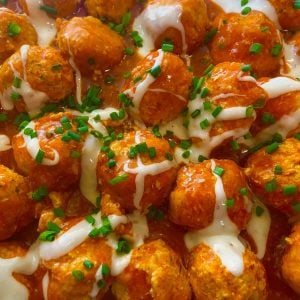 Buffalo Chicken Meatballs
Ingredients
Meatballs
1kg chicken mince

1/2 cup grated parmesan cheese

1/3 cup fine dry breadcrumbs

1 egg

1/2 tsp garlic powder

1/2 tsp onion powder

1/2 tsp dried rosemary

1/2 tsp dried thyme

1 tsp cracked black pepper
Sauce
400mls of your favourite buffalo wing sauce (I love Sweet Baby Rays brand)
To garnish
2 Tbsp chopped fresh chives or garlic chives

3-4 Tbsp garlic aioli dressing (Alternative: use Ranch dressing instead if you prefer)

Toothpicks to serve
Instructions
Combine all meatball ingredients into a large mixing bowl

Mix well to combine and using clean hands roll into approx. 40 small meatballs

Place 200ml of buffalo sauce into slow cooker and gently place the raw meatballs into the sauce

A single layer is ideal but if you have to double up some that's ok too

Pour remaining 200ml of buffalo sauce over the meatballs and cook on low for 3.5hours

DO NOT stir meatballs or move them until final hour. This will ensure they stay intact perfectly. They can be gently stirred in that last hour to ensure all are well coated in the sauce.

To serve, place meatballs in serving plate with some of the buffalo sauce spooned over them

Drizzle meatballs lightly with aioli sauce (as pictured)

Scatter with diced chives then place toothpick in each meatballs and serve hot!