Submitted by Alicia Lowe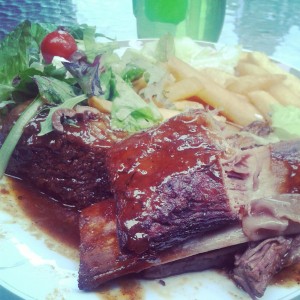 Bourbon BBQ Beef Spare Ribs
Ingredients
2 tablespoons Cajun seasoning mix

2 teaspoons smoked paprika

2 teaspoons brown sugar

1.5-2kg+ of beef spare ribs or pork ribs

1 cup tomato sauce

1/3 cup barbecue sauce

2 garlic cloves, crushed

1/4 cup bourbon

1 tablespoon Dijon mustard

1 tablespoon Worcestershire sauce
Instructions
1. Place ribs into slow cooker with dry spices and rub in.

2. Add all wet ingredients and garlic to the slow cooker and give a good mix. Then put on high for an hour then low for 5-6 hours.

3. Transfer ribs to a oven tray and cover with foil or a lid and place in the oven at 150 degrees Celsius for 20 minutes, glazing it with the sauce from the slow cooker half way through.

4. Scoop out sauce from the slow cooker and place into a pan and reduce on high heat till thickened to your liking.

5. Drizzle or drench ribs in reduced sayce and enjoy!