Submitted by Zara Charles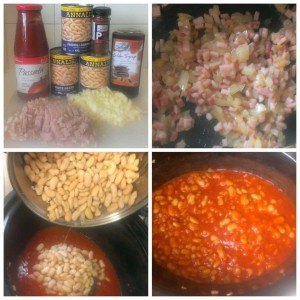 Baked Beans
Ingredients
3 or 4 cans of cannellini beans

1 jar of pureed tomatoes (pasata)

8 rashers of bacon finely chopped

1 medium onion finely chopped

Golden syrup

Smoked paprika
Instructions
Pop the onion and bacon in the slow cooker on high with a bit of oil and cook until ready (onion translucent and bacon almost cooked).

Put in the tomato puree, the beans (thoroughly washed and drained), a tablespoon of golden syrup and a few dashes of smoked paprika (as much or as little as your taste desires).

Cook on low for a couple of hours.