Russell Hobbs Slow Cooker GIVEAWAY!!
Posted on October 24, 2016 by Paulene @ Slow Cooker Central 360 comments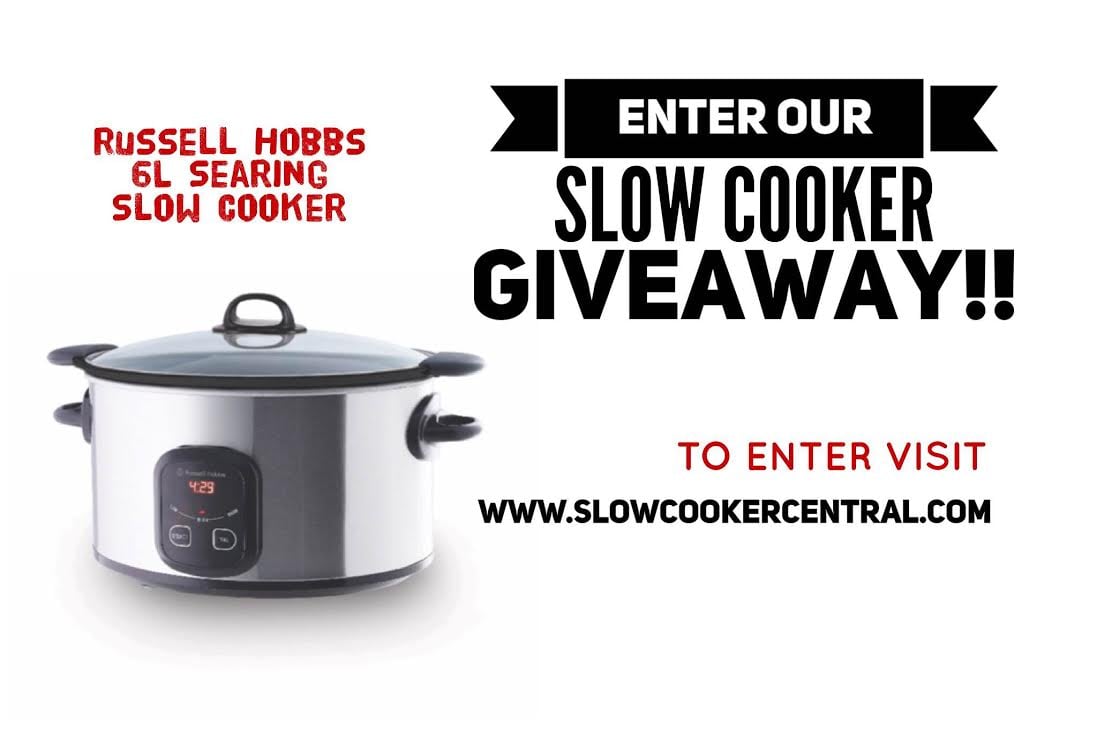 *****THIS COMPETITION IS NOW CLOSED *****
Our randomly drawn lucky winner was ….. Mae!
Congratulations Mae 🙂
Please check your email for more information on your prize 🙂
Thanks to everyone who entered
xx
---
Slow Cooker Central and Russell Hobbs are excited to bring you the opportunity to WIN A FREE SLOW COOKER!!
The Russell Hobbs 6L Searing Slow Cooker is packed with great features:
The Russell Hobbs 6L Searing slow cooker features a non ceramic inner cooking pot, glass lid, stainless steel base unit with LOW/HIGH/WARM control dial and digital timer
The inner pot can be placed directly on the stove top to brown/sear food prior to slow cooking.  So not only does this mean no extra dishes, but all that flavor you get when browning meat etc all stay IN the slow cooker bowl so you don't lose any of that great taste and depth of flavour.
In using the timer function, you can increase cooking time by 30 minute increments and when your cooking time ends the Russell Hobbs Searing Slow Cooker automatically switches to 'warm'.
The 6L size is plenty big enough to fit all your large roasts, soups, stews and meals in for a large family.  I found it to be a great non stick finish also.
Recommended retail price $89.95
You can read my full detailed review on this slow cooker HERE
And thanks to the good folk at Russell Hobbs we have one of these great units to giveaway!
Entering this giveaway is easy!
Simply comment below and tell us – what's the first thing YOU will cook in your Russell Hobbs 6L Searing Slow Cooker if you are our lucky winner 🙂
(comments appear after approval so don't worry if you don't see yours right away)
This competition is open now and will close at midnight Sunday 6th November 2016 (AEDT)
One entry per person.
Open to Australian residents only.
A winner will be selected from those who have commented below.
Winner will be announced here on this post on Monday 7th November 2016.
It's that easy!
Good luck everyone 🙂