Submitted by Rebekka Currie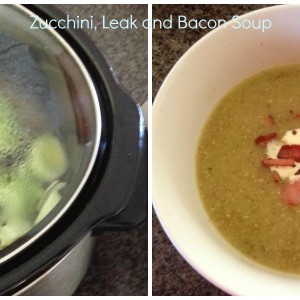 Zucchini, Leek and Bacon Soup
Ingredients
4 Zucchini

1to 2 Leeks

1 Small to Med brown onion

2 sticks of celery

a few cloves of garlic

500gms or more of bacon (fat removed)

Chicken stock

2 bay leaves

herbs of your choice (I usually use thyme)

pepper

To finish cream and extra bacon pieces fried until crispy.
Instructions
Chop all the vegetables into chunks, cop garlic into quarters and chop bacon into a large dice.

You can saut the onion, garlic and leek first or just add them straight into the slow cooker.

Add the rest of the ingredients except cream and extra bacon. Cover with chicken stock till it just covers. Cook until vegetables are soft them blitz the mixture until desired consistency.

High for 3 hours or low for 5 to 6 hours

Serve and add some cream and garnish with the extra bacon. Serve with crusty bread.

You don't have to add the cream if you are dairy intolerant its just as yummy.

I have also made this with chicken instead of the bacon.