Submitted by Geoff A Williams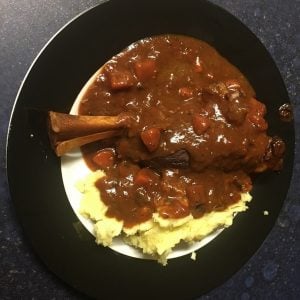 Yummy Lamb Shanks
Lamb Shanks with red wine and gravy.
Ingredients
4 lamb shanks

Cup red wine

Can condensed Tomato soup

One onion diced

Can diced tomatoes

Packet master foods slow cook garlic and herb shanks

Fresh finely chopped rosemary, chives and thyme

2 Diced carrot

Teaspoon cummin powder

Cup beef stock

Tablespoon gravy powder
Instructions
Brown shanks in oil with a bit of pepper. Set aside.

Cook carrot and onion until soft in the oil left from the shanks.

Place all ingredients into slow cooker except the gravy powder and stir well.

Place shanks into slow cooker and cook high 1 hour and low 6-7 hours.

About 30-45 minutes before serving, dissolve the gravy powder in a cup of cold water and stir into slow cooker.

Serve with mashed potato.