Submitted by Robyn Clark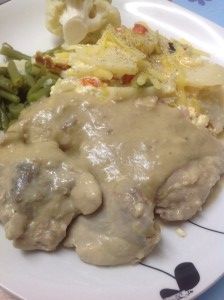 Yum Chicken (Dijon and Maple syrup)
Ingredients
1 kg chicken thigh fillets

1 Tablespoon cornflour .

1/2 cup of Dijon mustard ( MUST be Dijon )

1/4 cup Maple syrup

1 Tablespoon vinegar

1 -2 teaspoons sugar

1/2 teaspoon garlic granules

Salt and pepper

Sprinkle of Rosemary herbs.

1/4 cup Cream

##### If you want this sauce with pasta then add cooked onion and bacon and cube the chicken #####
Instructions
Mix the mustard, vinegar, maple syrup, sugar, salt and pepper and garlic together.

Place chicken fillets in your SC and sprinkle over the cornflour and pour the sauce over.

Sprinkle with some Rosemary herbs.

Cook on low for 5hrs or on high 1-2 hours ( check according to your SC as all cook differently ) .

Ideally , you want the chicken just soft . Remove the chicken and set aside.

Place the sauce in a saucepan and reduce to half , then add in the cream and thicken if needed.

You can remove the chicken and add cornflour and thicken direct in the SC I just like reducing it because of more intense flavours.