Submitted by Alice Vedel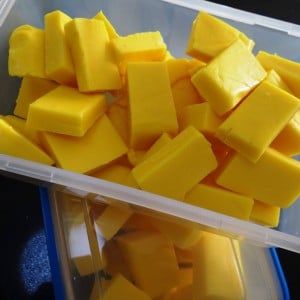 Yellow Banana Fudge
Ingredients
1 x 395ml Sweetened Condensed Milk

600 grams of White Chocolate

400 grams of Banana Lollies (AKA - Banana Foams - Banana Marshmallows)
Instructions
Chop Bananas and Chocolate into small pieces.

Place Sweetened Condensed Milk, Chocolate and Bananas into slow cooker.

Cook on high for 1 hour and stir every 10 to 15 minutes.

When all the ingredients are mixed and smooth, scoop mixture into a paper lined oven tray (30cm x 20cm or 12" x 8').

Refrigerate for 1 to 2 hours until set.

When set, cut fudge into your desired size and place them into an air tight container and refrigerate.