Submitted by Nikki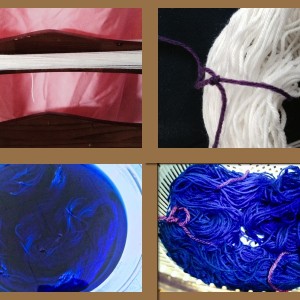 Yarn Dyeing - single colour
Ingredients
White or natural coloured yarn. This must be a protein based fibre which comes from an animal - wool, alpaca, silk, or can be a blend of up to 50% acrylic/manmade fibre. Plant based fibre like cotton, bamboo etc doesn't work with this method.

Water

White vinegar

Bowl

Synthetic food colouring (natural food colours do not work)

Scrap yarn that will not take up the dye eg 100% acrylic

Colander

Salad spinner
Instructions
If your yarn isn't already in a hank, then turn it into one. For a smaller quantity of yarn, wind it round the back of a kitchen chair, for a larger quantity, use 2 chairs, being careful not to tighten as you wind thus pulling the chairs together.

Tie the scrap yarn loosely round the hank in 4 different places.

Place the hank into a bowl of warm water containing white vinegar. Use enough water/vinegar solution to cover the yarn. Ratio of vinegar to water is 1/4cup vinegar to 1 litre warm water.

Leave this to soak for at least 30 minutes.

In the slow cooker put a litre warm water and the quantity of dye you wish to use, the more dye you use the darker/stronger the colour will be.

Once the yarn has finished soaking, place it into the slow cooker. Let it naturally fall into place.

If yarn isn't covered with water, add more water until it is.

1st hour on high (unless your slow cooker cooks hot) then down to low for 3hrs. The water is not to boil. Some processes talk about the yarn exhausting the dye, meaning that the water will become clear when the process is finished, if you use a larger quantity of dye this may not happen.

Remove the yarn from the slow cooker and place into a colander, leave to cool for 15 minutes. I use the colander part of my salad spinner for this.

After 15 minutes feel how warm the yarn is and run your tap water to that temperature. Rinse yarn until the water is clear - this can take about 10 minutes. It is important that the water isn't too cold or too hot as this can felt your yarn.

Place into salad spinner and spin out the excess water, stop and drain as you go if necessary. If you don't have a salad spinner then gently squeeze the water out of the yarn and then roll in an old towel to absorb as much water as possible.

Once the yarn has as much water as possible removed, hang it up to dry, this process depends on the temperature around and humidity. It can take up to 24hrs. I placed mine into my hot water cupboard overnight.

Yarn is now ready for use. Note that it may still lose a little colour when washed so wash separately from other items.

For this particular dyeing I used 25g of pure wool and had 1Tbsp of food colour in 1 litre of water.