Submitted by Nikki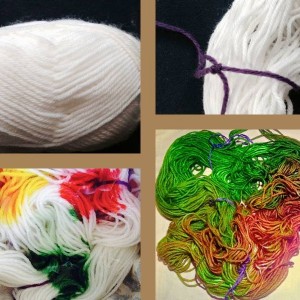 Yarn Dyeing - multi colour
Ingredients
White or natural coloured yarn. This must be a protein based fibre which comes from an animal - wool, alpaca, silk, or can be a blend of up to 50% acrylic/manmade fibre. Plant based fibre like cotton, bamboo etc doesn't work with this method.

Water

White vinegar

Bowl

Synthetic food colouring (natural food colours do not work)

Scrap yarn that will not take up the dye eg 100% acrylic

Colander

Salad spinner
Instructions
If your yarn isnt already in a hank, then turn it into one. For a smaller quantity of yarn, wind it round the back of a kitchen chair, for a larger quantity, use 2 chairs, being careful not to tighten as you wind thus pulling the chairs together.

Tie the scrap yarn loosely round the hank in 4 different places.

Place the hank into a bowl of warm water containing white vinegar. Use enough water/vinegar solution to cover the yarn. Ratio of vinegar to water is 1/4cup vinegar to 1 litre warm water.

Leave this to soak for at least 30 minutes.

For multi colour dyeing I would recommend using a larger slow cooker, mine was a 5.5litre round. An oval or rectangular cooker would work well as you could have more space between your dyes.

Place your yarn into the slow cooker and cover with warm water.

Measure out your dye colours and carefully place them into the water so as not to spread the colour. Do not agitate the water in any way.

I used 1/2tsp of each colour. This is 50g of yarn in 2 litres of water.

From experimenting the more dye you use in this case, the more likely it is to bleed into the other colours and lose the multi colour effect.

Do not touch the yarn while in the water cooking when doing multi colour dyeing as you will stir it up and mix the colours together which is what you do not want.

2-4 hours on low. The water is not to boil. Use your judgement on whether you think the yarn has finished dyeing. Basically all the dye will be absorbed from the water and there should only be a small residual colouration to the water. This particular yarn took 2hrs to dye.

Remove the yarn from the slow cooker and place into a colander, leave to cool for 15 minutes. I use the colander part of my salad spinner for this.

After 15 minutes feel how warm the yarn is and run your tap water to that temperature. Rinse yarn until the water is clear this can take about 10 minutes. It is important that the water isnt too cold or too hot as this can felt your yarn.

Place into salad spinner and spin out the excess water, stop and drain as you go if necessary. If you dont have a salad spinner then gently squeeze the water out of the yarn and then roll in an old towel to absorb as much water as possible.

Once the yarn has as much water as possible removed, hang it up to dry, this process depends on the temperature around and humidity. It can take up to 24hrs. I placed mine into my hot water cupboard overnight.

Yarn is now ready for use. Note that it may still lose a little colour when washed so wash separately from other items.