Beautifully flavoured slow cooker bread
Submitted by … Lynn O'Connor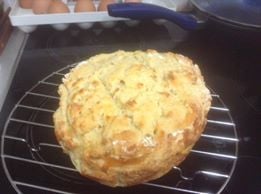 White Wine and Cheese Damper
Beautifully flavoured slow cooker bread
Ingredients
3 cups SR Flour,

1 1/3 cups Sauvignon Blanc,

3/4 cup grated cheese,

1/2 teaspoon yeast.
Instructions
Line SC bowl with baking paper, put dough in and dust with flour.

Tea towel under lid.

Cook 2 hrs on high.

A few minutes in the oven to brown.

Serve hot and buttered.