Submitted by Jade Kubler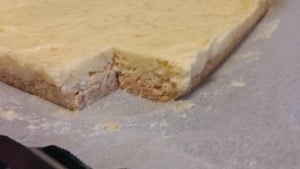 White Coconut Chocolate Fudge Slice
Ingredients
3 x 200g White Coconut Chocolate (from Aldi)

2 x 395ml Sweetened Condensed Milk

1 x 250g arrowroot biscuits

1 tbsp butter (softened)
Instructions
1. Crush biscuits by placing in the blender or using a rolling pin.

2. Combine 1 can of sweetened condensed milk with crushed biscuits.

3. Place into a lined baking tray.

4. Flatten out the biscuit base rolling a glass cup over it and place in the fridge.

5. Combine butter, white coconut and condensed milk into the slow cooker.

6. Place on high, stirring every 4-7 minutes until melted, approx 1hr

7. Pour on top of the biscuit base, smooth out using a spatula.

8. Cover and place into the fridge for 2-3 hours or overnight.