WESTINGHOUSE BLACK STAINLESS 3.5L SLOW COOKER
This beautiful new slow cooker is from Westinghouse Small Appliances
I say beautiful because it is … quite simply … stunning!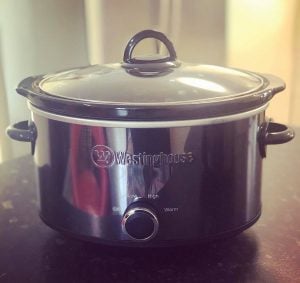 A shiny black stainless finish makes it the feature of any kitchen bench when in use.
So shiny in fact, photographing these cookers was quite the challenge 😉
I say these because this beauty comes in two sizes!
Her sister model is HERE … the 6.5L version … the same – just bigger!
You could even purchase the pair and have double the convenience of two meals/two courses at once 🙂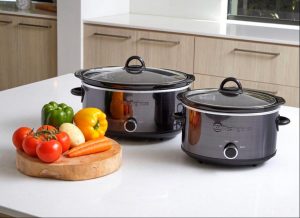 For this review though we are going to concentrate on the smallest of the two
The 3.5L capacity 🙂
This smaller than average size is great for smaller families, side dishes, desserts or smaller meals in general.
An emptier cooker cooks hotter, which isn't always ideal, so matching the size of the slow cooker to your individual household needs is always the best way to slow cook.
Let's look at some FEATURES first …
3.5L removable ceramic cooking pot to maintain and distribute heat evenly.  This pot is for use in the slow cooker unit only, not for stove or oven use.  Hand wash with non abrasive clothes/brushes and cleaning agents.
Stainless steel outer unit with stunning black stainless finish
Tempered glass lid to allow monitoring of cooking without need to always remove lid
Oval shape cooking bowl
Cool touch handles and knobs.  Note: only handle actual cooking pot with oven mitts as it does get hot.  And always carry a full pot of food by this inner cooking pot, not by the handles on the external slow cooker casing.
3 cooking settings HIGH, LOW, WARM
Cooking Settings
HIGH – High heat for faster cooking times.
LOW – Lower heat to allow longer cooking, ideal for best results
WARM – Keep cooked food warm until serving.  My personal recommendation is 2hrs max for food/taste quality
Manual dial, so you always know easily at a glance what setting you've chosen – no confusion sometimes found with digital control panels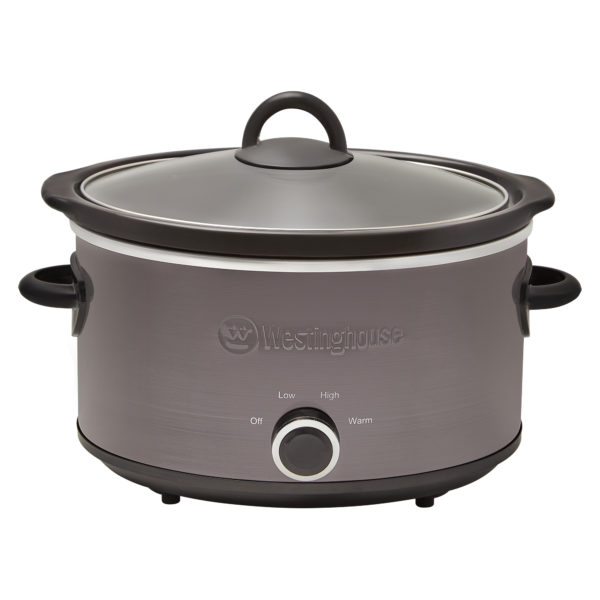 Price:
This unit generally retails for around $49.95
Stockists include:
Harvey Norman, Retravision, Good Guys, Costco, Betta Electrical, Joyce Mayne, Kitchen Warehouse and other appliance stores
Online retailers including Catch of the Day, KOGAN and Appliances Online may also have this item
If your store is out of stock ask them to order it in for you.  See full list of stockists here.
You can explore more of the Westinghouse Small Appliances range on their website or Facebook page also.
GREAT NEWS!!! 

To coincide with our new review  Westinghouse Small Appliances and Slow Cooker Central are giving ONE lucky reader the chance to WIN one of these great units
(Visit the 6.5L review page for your chance to win one of those too!)
Competition open to Australian residents only
Prize: 
1 winner will receive 1 x Westinghouse 3.5L Black Stainless Slow Cooker
Competition Dates:  
Competition open from Monday 4th May 2020 to midnight Monday 18th May 2020 AEST
Winners will be notified on this blog, and on a post in our Facebook Group prior to May 23rd 2020.
Prizes will be dispatched direct from Westinghouse Small Appliances.
Entry:
To enter this great competition simply
–  Be a liker of the Westinghouse Small appliances page and the Slow Cooker Central page on Facebook
– Comment in the comment box below including your name, state you live in, and your answer to the following simple question:
Tell us what's the first recipe you will cook in this slow cooker if you win?
It's that easy to win ?
Note:  Entries won't show right away as all comments need to be approved so don't panic if your answer doesn't show immediately, it will later ?
Good luck!
WINNER ANNOUNCED:   CONGRATULATIONS ELLEN POLOMKA!!! YOU ARE OUR WINNER XX