Submitted by Mel Marlborough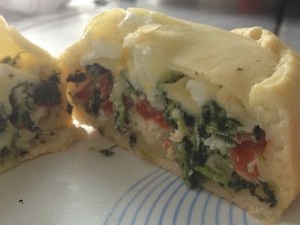 Weekend Brunch
Ingredients
1/2 cup self raising flour

1/4 cup Greek yoghurt

1/2 cup grated cheese

3 sliced mushroom

1/2 diced tomato

1 Tablespoon frozen spinach

1 Tablespoon crumbled feta

1 egg

Salt and pepper to taste
Instructions
Combine s/r flour and yoghurt to form dough. Using 3/4 of the dough, roll until 5mm thick. Use the dough to line a mini (5cm) springform tin.

Place half the cheese on the base, then layer the mushroom, tomato and spinach on top. Sprinkle remaining cheese and add the feta. Add salt and pepper to taste. Gentle place cracked egg on top of mixture.

Roll remaining dough so it will form a lid. Place dough lid on and use a fork to crimp the edge together.

Cook on high for 2hrs with a tea towel under the lid.