Slow cooked wasabi cheese meatballs
Submitted by Tania Whitford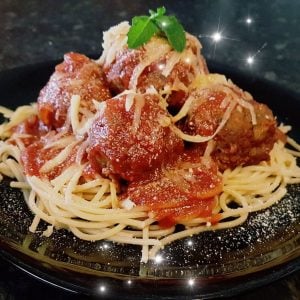 Wasabi cheese meatballs
Slow cooked wasabi cheese meatballs
Ingredients
Sauce
1 jar passata

1 cup tomato sauce

1 Tbsp sugar

2 tsp basil

2 cloves of garlic crushed

1 tsp thyme

1 tsp oregano

1 tsp mint

1 tsp parsley

2 chicken stock cubes

1 Tbsp worcestshire sauce

1 diced onion
Meatballs
500g beef mince

500g sausage meat

1 cup breadcrumbs

1/4 cup parmesan

1/4 cup all purpose seasoning

200g wasabi cheese cubed

Grated cheddar to garnish
Instructions
Place all the "sauce" ingredients into the slow cooker and cook for 4 hours on low.

Mix all of the "meatball" ingredients together in a bowl.

Depending on how big you want your meatballs as to how big you dice the cheese. I made 18 golf ball sized ones. So diced my cheese about 2cm x 1cm.

Roll into balls. Use your finger to make a hole in the middle and place the cheese inside. Close hole and make sure none of the cheese is coming out. Repeat for all balls. Place into the slow cooker and cook on low for 4 hours. Serve on a bed of pasta and garnish with some grated cheese.
Notes
Meatballs can be placed in at the beginning. I just prefer the sauce to be cooked longer so the flavours develop.

Cooking time can be halved by placing the meatballs in at the beginning, I just let the sauce cook for longer to develop the flavours. Alternatively make the sauce the day before