Submitted by Christy Roth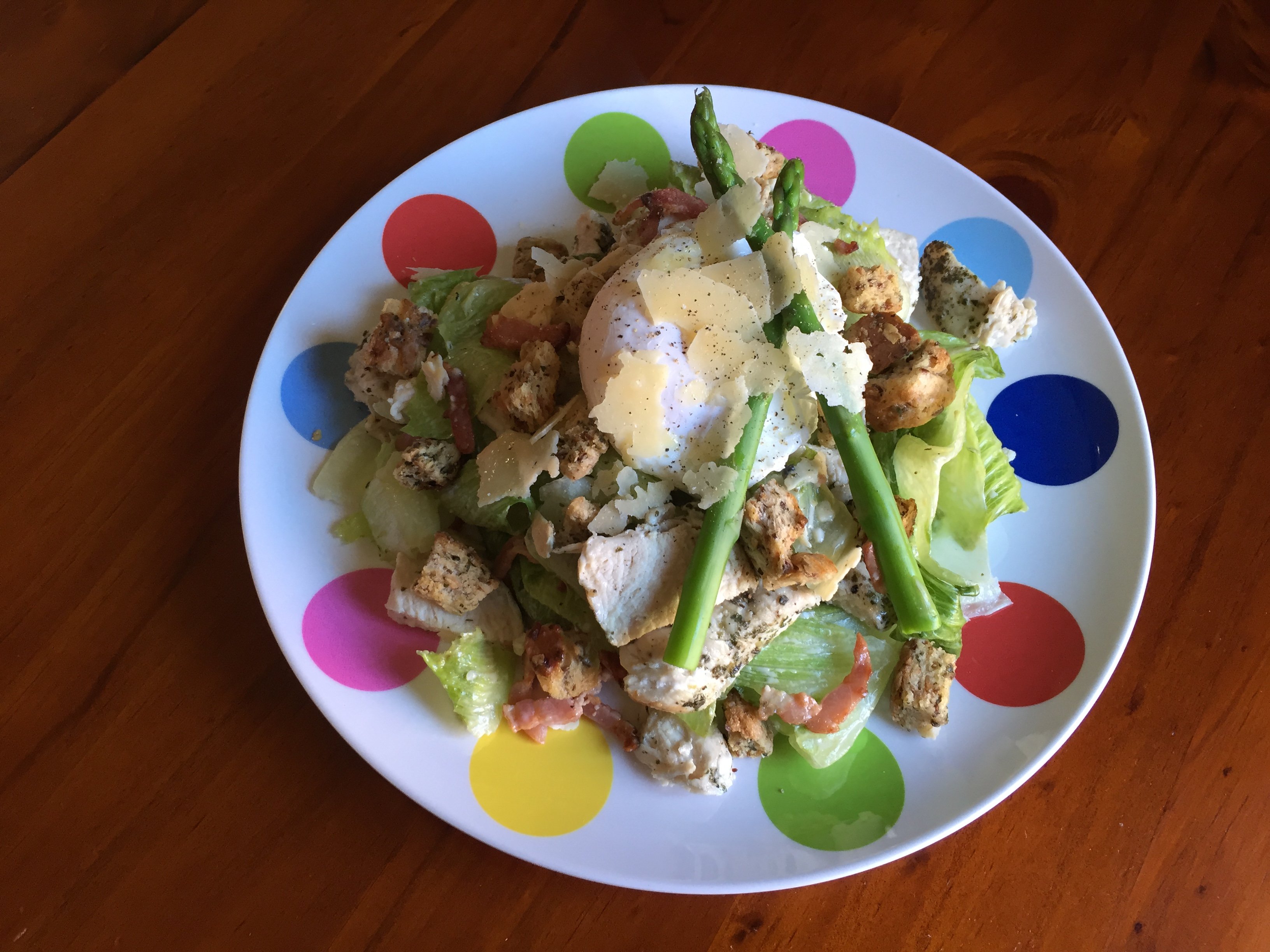 Warm Chicken Caesar Salad
Ingredients
2 chicken breast fillets

1 cos lettuce, ripped into pieces

70g shaved parmesan

1 cup croutons

Caesar salad dressing (to taste)

2 eggs

4 rashers streaky bacon cut into thin strips

1 tablespoon olive oil

1 teaspoon dried oregano

1 teaspoon dried sage leaves

1 teaspoon onion flakes

1 teaspoon garlic salt

1 teaspoon dried parsley flakes

2 litres boiling water

4 asparagus spears

Cracked pepper and extra shaved parmesan for garnish
Instructions
*Note this is the method for a searing slow cooker. If you do not have one, simply carry out the steps in the "searing" part by conventional stove top method

Preheat slow cooker to "sear" heat.

Once heated, fry bacon (without lid on) until crispy then remove from slow cooker and place onto paper towel to drain.

In a separate small bowl mix together oregano, sage, onion flakes, garlic salt and parsley until well combined. Sprinkle over chicken breast fillets and pat down gently then place fillets into slow cooker (which will still be hot and have oil in from cooking the bacon.

Sear chicken for five minutes on each side (without lid on) then turn slow cooker to high and cook with the lid on for a further 30 minutes or until done (will depend upon the size of the chicken fillets).

While chicken is cooking, in a large bowl place lettuce leaves, parmesan, croutons, bacon and Caesar dressing and mix through thoroughly.

Once cooked, remove chicken from slow cooker and put on a plate to allow the meat to rest.

Clean slow cooker bowl, replace, then set to sear function. Add the water and put on the lid until the water is boiling. Add asparagus and blanch for 2 minutes. While the asparagus is cooking, slice the chicken into bite sized pieces and. Once the asparagus is done, place into a bowl of ice cold water to stop it from cooking further.

Add 20ml vinegar to the water (the same water in which the asparagus was cooked). Crack the eggs into a separate bowl (individually) and slowly lower into the water, poaching for approximately 2.5 to 3 minutes (with the lid off). Remove from slow cooker gently and place on paper towel to drain.

Pile the lettuce mixture onto a plate, adding warm chicken pieces at the same time, and then gently place a poached egg on top. To garnish, cross 2 spears of asparagus over the poached egg then sprinkle with shaved parmesan and cracked black pepper.