Submitted by Judy Maughan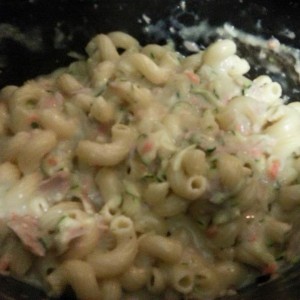 Tuna Mornay
Ingredients
425g can Tuna in Olive Oil

50g Butter

8 Tbs Plain Flour

1Tbs Vegeta Gourmet Stock Powder

1 Onion finely diced

4 cups Milk

1-2 grated Carrot

1-2 grated Zucchini

1 cup grated Cheese Blend

375g Pasta Curls, cooked to just al-dente
Instructions
Preheat slow cooker on high.

Add butter and drained oil from Tuna.

Add flour and stock powder and mix til well combined.

Heat combined milk and onion til warm.

Slowly add to flour until well combined and smooth. Add carrot and zucchini. Mix well.

Cook on High 11/2 hours stirring every 20min or so.

Lid on with towel under lid.

Add tuna, pasta and cheese. Mix well. Continue cooking til warmed through.

Optional: Vary vegetables as desired. Grate or chop finely to ensure vegetables cook.