This will make a thick but not too thick soup. You can adjust this recipe to your own taste
Submitted by Rita Cotton Sharples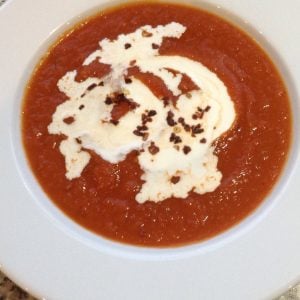 Tomato,Sweet Potato and Red Pepper Soup
This will make a thick but not too thick soup. You can adjust this recipe to your own taste
Ingredients
1 Red Pepper

1Med/large Sweet Potato

Half a Green Pepper

1 Small Onion

Bottle of Passata ..I use Cirio

Seasoning

Good pinch of Chilli Flakes ..optional

Mug of Water

Single cream to swirl on top ..optional

Small sprinkle of chilli flakes..optional
Instructions
Turn Slow Cooker onto high,

Chop all vegetables into small pieces ,

Add to Slow Cooker with the rest of ingredients,

After 2 hours making sure sweet photos are softening turn to low,

4 hours on low adjusting seasoning ,

Blitz or lquidise until as smooth as you like it,I left a few chunks in,

Add more liquid if it's too thick ,

Swirl cream on top if using,

Sprinkle on top of cream with chilli flakes if using .
Notes
This will make a thick but not too thick soup.You can adjust this recipe to your own taste...more red pepper,more sweet potatoes or less or you can omit one ingredient.Just play about with it ..I use Cirio Passata as it is not not as smooth as other brands..If you use another brand it will probably have a different consistency but if you like it ,that's ok ,I swirled single cream on top but you could use creme fraiche.

You don't have to blitz or liquidise if you don't want to .Its very versatile.....it's my own recipe and can be played with easily ...I put chilli flakes in to give it a bit of a kick but you don't have to ...I hope you like it ...