Submitted by Sharon King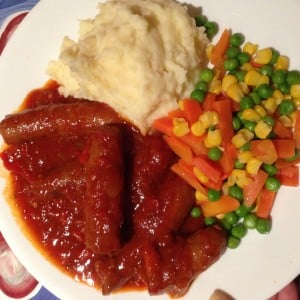 Tomatoey Saucy Snags!
Ingredients
16 thin sausages - browned

1 brown onion, roughly chopped and lightly fried until transparent

1 red capsicum, sliced

1 400g tin diced tomatoes

1 420g tin condensed tomato soup

1 tbsp crushed garlic

1 tbsp Worcestershire sauce

1 tbsp Balsamic vinegar

1 tbsp soy sauce

1 tbsp brown sugar

Sprinkle Italian herbs

Sprinkle chilli powder

Sprinkle paprika
Instructions
Place sausages, onions and capsicum in slow cooker.

Combine remaining ingredients then pour over sausages.

Cook on low for 5 hours.

Serve with creamy mash and veggies.