Easy, versatile, everyday tomato sauce
Submitted by Melissa Walton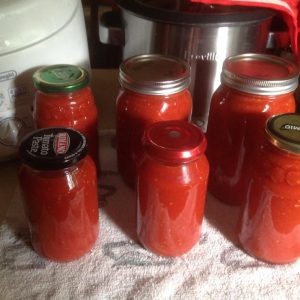 Tomato Sauce
Easy, versatile, everyday tomato sauce
Ingredients
6 Lt slowcooker full of chopped tomatos

1 jar tomato paste

1tbs salt

3 tbs sugar

1 bunch Basil
Instructions
Place all items in slow cooker and cook on high for 4 hours.

Blend till as smooth or chunky as you desire.

Spoon into jars that have been washed well in hot soapy water then rinsed well. .

Place lids on jars and then jars into a water bath to seal.

Water bath instructions: Place jars in large pot, cover with water, bring to the boil and let simmer for 45 mins. Allow to cool before removing jars from pot. Label and store in pantry ready for use.