Submitted by Natalie Dudarko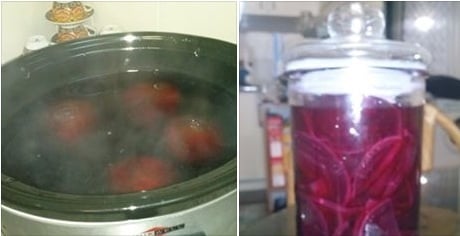 Tinned Beetroot
Ingredients
4 large beetroot

Water

Salt

Pepper

Sugar

Vinegar

Sterilised Jars
Instructions
Place whole unpeeled beetroot in slow cooker and fill with warm water. Season with salt, pepper and a sprinkle if sugar. Cook on high for 3-4hours until a knife inserts easy.

Once cooked take beet roots out and leave to cool (cool enough to handle).

Cut ends off and rub skin off, then slice thinly.

Divide eventually between jars put 2teaspoons of vinegar per jar (jam jar size) and fill with cooled boiled water (not from slow cooker) store in fridge.

Lasts about 1month.

4 large beetroot made about 5 x 400g tins worth.