Exciting news!!!
You asked for it … we delivered it 🙂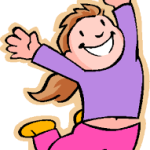 We are thrilled to announce the launch of the SLOW COOKER CENTRAL MOBILE PHONE APP!!
The fabulous folk at App City have created an incredible app for us that we are so excited to be sharing with you all.
You will be able to enjoy an easy way to access all your favourite recipes and blog articles as well as enjoy heaps of other features right from your mobile phone!
Download it today to take advantage of these wonderful features:
•View and search all recipes
•Clear and easy to read recipes
•Receive alerts as new recipes become available
•Easy to use recipe submission
•Access to blog updates
•Plus much, much more..
Slow Cooker Central is the most comprehensive slow cooking app available ❤
Your app purchase is a lifetime device purchase and you will receive all recipes updates and app new features for FREE. New recipes, features and content are added regularly so you will have new recipes to try each week.
Note: On download, the app loads all categories of recipes automatically. Each recipe then needs to be clicked on and downloaded individually to be stored in your device for when it is offline. Once downloaded, the recipe will be permanently stored on your device and accessible when you are offline.  (offline access not compatible with  Sony Xperia)
Download yours here now: http://txt.appcity.com.au/slowcookercentral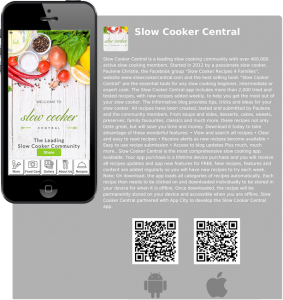 Apple- https://itunes.apple.com/us/app/slow-cooker-central/id1066411321?ls=1&mt=8
Android- https://play.google.com/store/apps/details?id=com.app_sccdemo.layout
---
Messages- Manage your preferred push notification subscriptions and view old messages received.
Share feature- Help take our app viral with built in sharing capabilities over Email, SMS, Facebook and Twitter.
Food Cam- Allows you to take a photo and email it directly to us.
Gallery- Live feed coming direct from our Instagram feed.
About Us/ Testimonials-  Find out where it all began, read and submit a testimonial.
Recipes- Easy to navigate and searchable within each category.
Newsletter- Join our mailing list.
In the MORE Feature you'll find.
Website- View our website.
Shop- Purchase one of our bestselling recipe books.
Blog- View our blog section.
Submit a Recipe- Share your latest masterpiece and photo.
Login to Website Account- Log in to your own personal account to view and save additions to your favourites.
Contact Us- Send in your enquiry here.
Videos- View our YouTube Channel.
Social Media integration- Connect with us through your favorite social media sites.
---
**USER TIPS**
Saving favourites on the app:
To save recipes on the app the save feature is via the website channel.
So go to MORE tab on bottom of main app screen
Tap the top LOGIN TO WEBSITE tab in this more menu
Be sure to SIGN IN (you may want to have it remember your login to make it faster next time)
Go to the recipe you want (you can search it to make it fast if you like)
Then just tap the little love heart on the top of the recipe
It's now saved to your favourites!
Then to view your favourites any time click on the big red MY PROFILE tab at the top when on the site and you can then see your favourites
Hope this helps 🙂
Accessing past message/push notifications:
If you want to come back to push notifications you've received from us you can find these in your message box on the app.
This is in the top left of your screen when in your app.
You can go here to find the messages you've selected to receive from the app: eg the weekly recipe wrap up
The Slow Cooker Central team will not spam you and will ONLY send you notifications that you have selected yourself.
You can choose from messages about:
– New Recipes
– New Blogs
– General Notices
– App updates & New Features
(or all or some of the above)
To update the options you chose, go into your message section of the app (top left corner) … then while in this section you will see the cogwheel on the top right corner… click here to change your setting selections 🙂
Having any troubles with your app not working as it should?  Here's some troubleshooting steps from our App developer for you to work through that will hopefully resolve any issues 🙂
First Tip- Global search will pull up all of the sections in the app that have a reference to the word being searched and once clicked, user will be taken to the appropriate tab. To access the search function, swipe downward from the top of your screen and the search window will appear. (Pic attached)
2nd Tip- Can you please try to refresh the app please? Remember, as long as you're using features compatible with your app's source code, any changes you make to Steps 1-3 will take effect immediately. However, Step 5 changes require a full app update, since the majority of those elements are built into the app file or can't be edited without submitting a new version. The below instructions detail how to refresh app content on your device.
Force-Closing on Android:
1. With the app open, hit your device's back button until you reach the home screen.
2. Relaunch the app to view your changes!
Clearing Cache/Data on Android:
1. Exit the app.
2. Open "Device Settings."
3. Select "Applications/Application Manager" from the Settings list.
4. Select the app from the list.
5. Select the "Force Stop," "Clear Cache," and "Clear Data" options.
6. Relaunch the app to view your changes! Shake Refresh on iOS:
1. When the app is active, shake your device to refresh.
2. Your app will reload to display your changes!
Force-Closing on iOS:
1. Double-click your device's home button, revealing all active apps.
2. Locate the app by swiping left or right.
3. Swipe upward over the app so it disappears from the screen.
4. Click the home button again to return to the home screen.
5. Relaunch the app to view your changes! Let me know if you have any other questions or concerns, I'll be happy to help!