Finger licking good slow cooked ribs … spicy and non spicy version to suit everyone's tastes 🙂
Submitted by Tanya Bushnell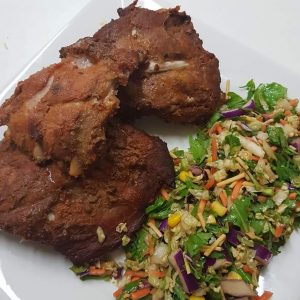 Texan Style Pork Ribs
Finger licking good slow cooked ribs ... spicy and non spicy version to suit everyone's tastes 🙂
Ingredients
1/4 Cup of Ketchup

2 Tbspns Water

2 Tbspns Worchestshire Sauce

1/2 Tspn Cayenne Pepper

1 Tspn Onion Salt

2 Tbspns Brown Sugar

2 Tbspns Sweet Chilli Sauce

1 Tbspn Paprika (if you want smokey flavour use Smoked)

1/2 Tbspn Minced Garlic

1 Tbspn Olive Oil

500g Pork Ribs
Instructions
Pour oil in to slow cooker and use a pastry brush to wipe it over the bottom and a little up the sides.

Add all other ingredients EXCEPT RIBS into the slow cooker and stir thoroughly. 

Cook on low for an hour with tea towel under lid. 

Stir every 15mins.

Put into an uncovered container/bowl to cool in fridge.

Once cooled (approx 2hrs) grab a large zip lock bag, pour cooled sauce in and then pop ribs (or meat of choice) into bag and marinate overnight.

When ready to cook I adds ribs to slow cooker on a ball of foil to raise a little from base (keep zip lock bag with remaining marinade to the side) . 

Cook for either 2.5hrs on High or 5hrs on Low. 

Approx half way through cooking pour remaining marinade over ribs and keep cooking for the remainder of cooking time.

I serve with a side salad or wedges depending on what we feel like ?
Notes
This is just for hubby and I, so for more than 2 people just double the recipe. 

You can store in fridge for about 4-5 days or even freeze for later.

Omit cayenne pepper for a child friendly non spicy option