Submitted by Simon Christie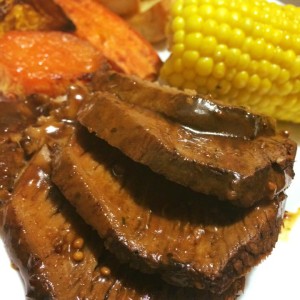 Tender Roast Beef
Ingredients
1 kg beef blade roast

1 Tablespoon minced garlic

1 1/2 teaspoons seeded mustard

1 teaspoon olive oil

1/4 cup Worcestershire sauce

1 teaspoon oregano

1/2 teaspoon cracked black pepper
Instructions
Seal beef by browning: Put beef, garlic, mustard and oil onto your searing cooker/pan and brown each side of roast.

Transfer to slow cooker.

Combine Worcestershire sauce, oregano and black pepper and pour over the sealed roast beef.

Place cooker on LOW with lid on for FIVE hours.

For best results, turn beef over after TWO hours. Serve with a selection of roast vegetables.

Enjoy.