Submitted by Jaime Murphy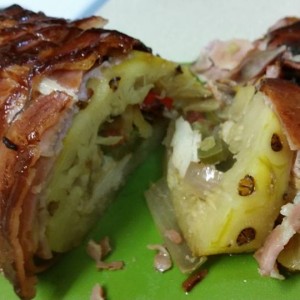 Swineapple
Ingredients
1 Large pineapple.

400gm of pork loin strips or chicken fillet strips.

1/4 each sliced red and green capsicum.

1/4 sliced Spanish onion.

4 T favourite marinade.

600gm bacon rashers.

Favourite BBQ sauce.
Instructions
Chop off the top of the pineapple and hollow it out. Shave off the spines on the outside, taking care to leave a 1.5cm wall intact on all sides.

Mix the marinade, meat, capsicum, and onion and use to stuff the cavity of the pineapple.

Put the top back on and secure with skewers.

Make a bacon weave and wrap it around the pineapple tightly.

Coat in BBQ sauce and cook on low for 5.5 hours.

Crisp up in a very hot oven for 5-10 minutes, rest for 2 minutes, then carve and serve.