Sweet Sticky and Delicious!
Submitted by Jarrah king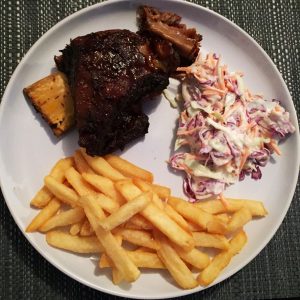 Sweet Sticky Slow Cooked Bbq Beef Ribs
Sweet Sticky and Delicious!
Ingredients
Marinade
2tbs apple cider vinegar

1 tsp dried rosemary

1 tsp dried thyme

1/2 cup bbq sauce

1tbs tomato paste

1 tbs smoked paprika

1tbs garlic powder(could use fresh)

1tbs onion powder

2tbs black strap molasses (could use honey, maple or brown sugar but really recommend trying molasses)

1 cup of beef stock

Season with pepper
Instructions
Place all the marinade ingredients (except beef stock) into a bowl and mix.

Baste the ribs with half of the marinade and place the remainder of the marinate into the fridge until later.

Pour the stock into the slow cooker and add ribs.

3 hours into cooking time gently turn the ribs over and cover with the remainder of marinade (see notes)

If during the cooking process you notice the ribs drying scoop the sauce from the bottom of the slow cooker pour over the top it also adds more flavour.

Slow cook for 6 - 7 hours on low

Or 5 hours on low and then 1 hour on high (I find this works best for ribs)
Notes
Instead of basting half way through cooking time you could baste right at the end and pop it in a preheated 200 degree oven for 10 minutes. The extra basting helps make it sticky and sweet.