Submitted by Candice Burgess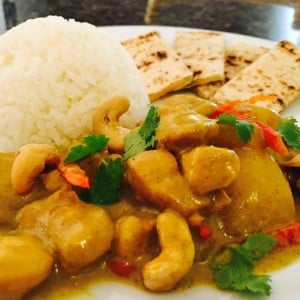 Sweet Coconut Chicken Curry
Ingredients
4 Chicken Thighs skinless chicken chopped into bite-size pieces

1 red capsicum, seeded and thinly sliced

2 small potatoes (I used red), peeled and chopped

½ onion chopped

--Sauce

2 cups chicken stock

2 cups coconut milk

3 tablespoons yellow curry powder (eg Keen's Curry Powder)

1 teaspoon cumin

4 tablespoons of brown sugar

2 garlic cloves

1 teaspoon of salt (or to taste)

½ teaspoon ground chilli (or to taste)

optional: corn starch (see note)

cashews, coriander cooked rice for serving
Instructions
Add chicken pieces, red capsicum, potatoes, and onions to the slow cooker.

In a medium bowl whisk together chicken stock, curry powder, cumin, salt, and chilli, brown sugar and garlic. Pour mixture into slow cooker and stir to coat chicken and veggies. Cover and cook on high for 2-3 hours or on low 4-5 hours.

about 10-15 minutes before serving, stir in coconut milk. Stir just before serving and top with cashews and freshly chopped coriander.
NOTES
If you prefer a little bit thicker curry (like I do) whisk together 3 tablespoons cold water and 2 tablespoons corn starch. Stir into slow cooker about 30-45 minutes before serving and cook on high until ready to serve.