Submitted by Lynn Hastie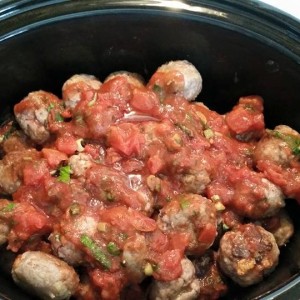 Sweet chilli & cheese meatballs
Ingredients
MEATBALLS

1kg beef mince (or mince of your choice, could use lamb, chicken or even kangaroo mince would go well)

2 eggs

1-2 tablespoons soy sauce

2-3 tablespoons sweet chilli sauce

1-2 teaspoons mixed herbs

1 cup breadcrumbs

3/4 cup grated tasty cheese

Cornflour to coat meatballs

SAUCE

Up to 2 tins 400g tin diced tomatoes (depends on how much sauce you like, I used 1 tin but probably could have used 2)

1/3 cup chopped lemongrass

1/4 cup chopped fresh basil

1 tablespoon chopped coriander

1 tablespoon oregano

Good splash of red wine

Salt & pepper to taste

PASTA

Around 400-500g uncooked spaghetti.
Instructions
Mix all meatball ingredients in a mixing bowl until well combined. Roll mince mixture into small balls, making sure you poke the cheese well inside the meatball.

Coat meatballs in cornflour and brown in a little oil in a fry pan, but not necessarily cooked right through.

Transfer browned meatballs to slow cooker.

For the sauce, mix all ingredients except the wine in a mixing bowl and pour over meatballs in slow cooker, then splash the wine over the top.

Enjoy!

Cook for around 4 hours on low, cook spaghetti separately, plate up and serve meatballs over the top.