Submitted by Narelle Youngs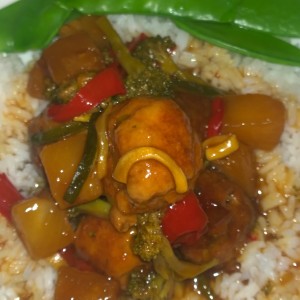 Sweet and Sour Chicken Meatballs
Ingredients
500g chicken mince

1 cup bread crumbs

1 egg

mixed herbs to taste

1 carrot, grated and excess liquid squeezed out

1 spring onion

50 mL soy sauce

2 heaped tablespoons cornflour

1/4 cup white vinegar

440g can pineapple pieces, drained, juice reserved

1/4 cup brown sugar

1/2 red capsicum, thinly sliced

broccoli, sliced

1 zucchini, matchsticked
Instructions
Combine the chicken mince, bread crumbs, spring onion, carrot, egg and mixed herbs. Roll into 24 balls. Brown in a frypan then stack in the slow cooker. Add the capsicum on top.

Combine soy sauce and cornflour to make a paste. Add vinegar, brown sugar and pineapple juice. Pour over meatballs and slow cooker. Cover with lid and cook on low for 6-7 hours.

About 45 minutes before end of cooking, gently remove meatballs, stir the sauce, add the broccoli and zucchini then return the meatballs to the slow cooker.