Sweet with that tang of lime
Submitted by Karen Stuckings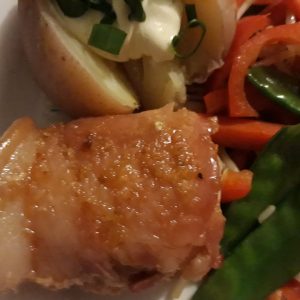 Sweet and sour chicken
Sweet with that tang of lime
Ingredients
2 chicken breasts

4 rashers of middle bacon
Sauce ingredients
1/4 cup brown sugar

1/4 cup of honey

1/2 finely grated lime (about 1/2 teaspoon)

1 large lime juiced (about 2 tablespoons)

5 cm finely grated ginger (about 1 tablespoon)

3 cloves crushed garlic (about 3 teaspoons)

1/2 teaspoon sriracha (hot sauce)
Instructions
Butterfly 2 chicken breast and cut so you have 4 pieces of chicken same size, can use the side of a meat tenderiser to flatten a bit if a bit uneven.

Roll up chicken pieces and wrap in bacon.

Mix all sauce ingredients together in a bowl.

Place wrapped chicken into slow cooker.

Spoon 1/3 rd of sauce over chicken.

Cook 1 1/2 hours high .

Turn chicken and spoon 1/3 rd of sauce over.

Cook 1 1/2 hours high.

Once cooked and plated spoon rest of sauce over top.

The small amount of sriracha is just for taste not heat, add more if you like a bit of a kick.

Cooked in 3L Aldi slow cooker.