Submitted by Jarrod Crisp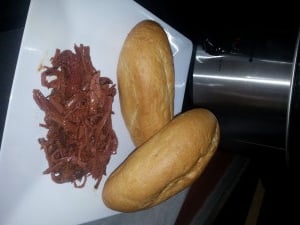 Sweet and Smokey Cherry Beef - (Pulled Beef)
Ingredients
1x jar of pitted Morello cherries

1x bottle of your favourite BBQ sauce/marinade (I prefer Sweet Baby Ray'Smokey BBQ)

2 TBS minced garlic (or fresh!)

A decent squirt of maple syrup

1x slab of beef brisket or roast.
Instructions
Add all ingredients apart from the meat into your SC and turn on to LOW.

Stir to combine ingredients. Taste test sauce and add anything you desire (more maple syrup to make sweeter or even molasses, salt and pepper to taste, etc)

Once you enjoy the flavor, add meat and baste top of meat with sauce.

Place lid on SC and let cook for 8hrs minimum.

Remove meat (careful as it easily falls apart) and let sit for 5min to settle the juices inside.

To thicken sauce, add 1TBS of cornflour and stir in to sauce. Turn SC on HIGH for 10mins or until desired thickness.

Serve as a normal roast, or pull the meat to create pulled beef (for sliders/tacos)

Enjoy!