Slow cooking is meant to be easy!
This family sized slow cooker from Sunbeam is as easy as it gets!
Refined and engineered in Australia and put to rigorous testing, Sunbeam ensures a reliable product you can trust at a price you can afford  🙂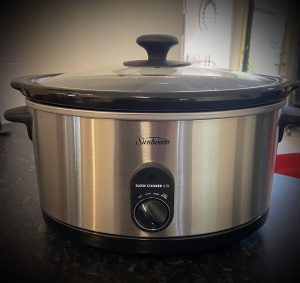 Features:
Removable ceramic cooking bowl in a 5.5L capacity
Brushed stainless steel outer housing which looks lovely on any kitchen bench
Glass lid to see what's going on inside your cooker without heat escaping
Dishwasher safe cooking bowl and lid – we love a machine that makes even less work for us
Temperature control dial – no complicated digital displays – so you always know exactly what setting you've chosen and can change it at any time
Power on light so you are never in any doubt if your cooker is on/left on
Temperature settings: LOW, HIGH and KEEP WARM
Removable cord which is a feature I love for easy storage and also serving straight to the table
Cool touch handles and lid knob for added safety
Wrap around element to ensure even cooking and prevent sticking and need to stir
Recipe booklet include to get you started
12 month replacement warranty
RRP $59.95 which is a fantastic price for this appliance
I'm excited to add this slow cooker to my collection and I'm sure you will be too!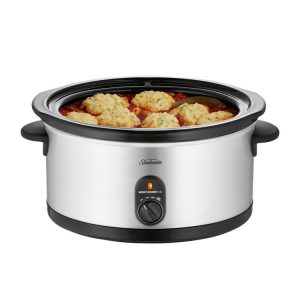 Happy slow cooking everyone!