I'll admit it … I was excited to try this machine!
Ever since I first discovered searing slow cookers I've been hooked on the convenience and benefits of using one.
However when I learnt that the Sunbeam SecretChef Sear and Slow Cooker seared IN the actual slow cooker itself … this was convenience on a whole new level!
I couldn't wait to get started 🙂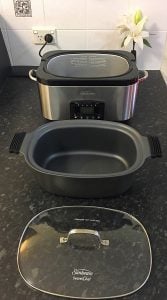 The Sunbeam SecretChef Sear and Slow Cooker is a 5.5L capacity slow cooker with a non stick aluminium inner bowl.
A great size to feed a family with but also a good flat surface area on the bottom which is great for making the best of our non traditional slow cooker recipes like cakes, slices and biscuits etc.
The inner bowl is designed so that it doesn't need to be moved to a stove top to brown or sear in. This unit does it right in the slow cooker itself making it a complete stand alone cooking unit. I love this feature! It's what makes this unit stand out from all the rest I've ever seen.
The cooking bowl features rubber soft grip handles and non-slip feet for safer handling and usage.
The tempered glass lid allows you to keep an eye on your cooking without the need to lift the lid and let heat out.
I did find the handle on the lid got quite hot during cooking so be mindful to use oven mitts or a towel when you do lift it 🙂
---
THE CONTROL PANEL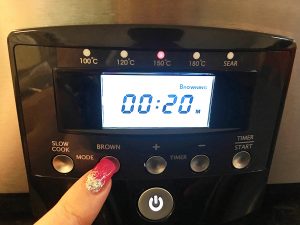 It's hard to look at this machine and not notice its high tech looking control panel front and center.
The good news is that it's extremely user friendly and not at all complicated!
Turn on the power, choose between slow cooking or browning, choose your temperature and cooking time and press start. It's that easy 🙂
Illuminated display lights and audible beeps as you program your settings allows you to see at a glance that you have it just how you intended.
---
BROWNING MODES
Browning Mode: The browning mode of the Sunbeam SecretChef Sear and Slow Cooker has five heat settings to choose from. 100°C, 120°C, 150°C, 180°C and 'Sear'
In this browning mode the pan needs to heat up to the desired temperature first then the display will show when it's 'ready' for you to begin cooking.
Depending on the food that you are cooking and the style you are cooking it, these temperature options can be used to boil, shallow fry, stir fry, saute or sear.
Minimum cooking times on the browning setting is 10mins and the maximum cooking time is 2hrs. However you can manually move away from the browning setting yourself at any time.
For best results in the browning mode, do not use lid.
I found the lower two temperatures in the browning options perfect for SEALING without browning. This is great if you don't want to advance to browning levels but still wish to seal in the moisture in your meat prior to slow cooking it. I was able to seal my chicken breast (as pictured below) in just a few minutes in the easy to use non stick bowl.
I found the mid to high browning temperature ranges were perfect for BROWNING.
I tested these settings by easily browning some mince. After the browning I was able to drain away the fat then easily switch to slow cooker mode and continue on cooking my taco mince with it.
Again it browned in no time at all and was completely non stick in the process so no added oils required.
To test the SEAR mode I wanted something I could really turn the heat up on to seal, sear and brown at this high temperature and lamb shanks were perfect for this.
Before cooking my favourite Lamb Obsession recipe I seared the shanks right in their slow cooker bowl so none of that extra taste is lost from the final dish.
---
SLOW COOKING MODES
The Sunbeam SecretChef Sear and Slow Cooker has three heat settings for Slow Cooking – Low, High and Keep Warm
Low Setting is suitable for simmering and slow cooking.
Using the digital timer you can set your low slow cooking in 30 minute intervals from 8hrs to 20hrs.
The only drawback I found was that while using the low setting, the minimum cooking time you can set is 4hrs. Of course you could overcome this limitation by simply being on hand to manually stop it earlier if you needed to.
High Setting is suitable for faster slow cooking.
The manual helpfully notes that 1hr of high is approximately equivalent to 2 – 2.5 hrs on low
You can program your timer to cook on high for anywhere between 4hrs and 20hrs.
Keep Warm is a great feature that means when your cooking time has completed, the machine will automatically switch into a keep warm mode until you are ready to serve.
The keep warm mode is not hot enough to cook food; it's only to keep already cooked food warm.
You can select the keep warm setting for a maximum of 8hrs using the timer.
Note: The maximum combined cook/keep warm time is 20hrs. So if your cooking time was for example 16hrs then the maximum keep warm time will be 4hrs to reach the 20hrs maximum limit.
I tested the slow cooking functions on a long cooking recipe (Lamb Obsession pictured above) and some faster cooking recipes (quiche and taco mince pictured below)
All cooked evenly and to what I found to be standard temperatures.
---
CARE, CLEANING AND NOTED EXCEPTIONS
Note that this aluminium cooking bowl is NOT for use on stovetops, in microwaves or in ovens. It is ONLY for use inside the SecretChef unit.
I was however thrilled to note that unlike some slow cookers, the cooking bowl and lid of the SecretChef are dishwasher safe – I love when slow cookers are like this as it really helps provide extra convenience and time saving!
It can of course also be washed in warm soapy water.
The housing unit of the machine should of course NEVER be placed in water or any liquids.
Note also that while we sometimes use oven bags in slow cooking, the manual of the SecretChef specifically advises against doing so in this machine.
---
EXTRA FEATURES OF NOTE
I was very impressed to note that the SecretChef has a built in Power Interruption Protection feature.
This means that if you have a short term power interruption (or accidentally switch it off at the wall as I've been known to do before), if the interruption is no longer than 1 minute the unit will retain all your programmed setting selections and will continue cooking with these when the power supply returns.
I was interested to read in the manual that to boil water in your SecretChef set it to 120°C with the lid on. This could be useful to know for some who may wish to achieve a boiling level for a recipe but are unsure what temperature setting is needed to do so.
The instruction booklet comes with 28 great recipes to get you started and there is also this great weekly menu suggestion plan created by Sunbeam here >> A week in the life of your SecretChef
I found another great use for the in-unit searing options also.
After slow cooking my Lamb Obsession I wanted to thicken it without adding a thickening agent like cornflour etc.
Instead all I had to do in the SecretChef was switch it over to searing mode. By doing this the dish quickly increased to a higher temperature that allowed it to bubble, reduce and thicken (with lid off) in only a few minutes with fantastic thickening results.
---
The SecretChef Sear and Slow Cooker comes with a 12 month warranty.
You an also read more about the machine on these Sunbeam product pages:
Sunbeam Australia
Sunbeam New Zealand