Sunbeam 7.5L SecretChef Slow Cooker
Are you looking for a large slow cooker?
How about THE LARGEST on the Australian market?
Sunbeam have that for you with their 7.5L SecretChef Slow Cooker!!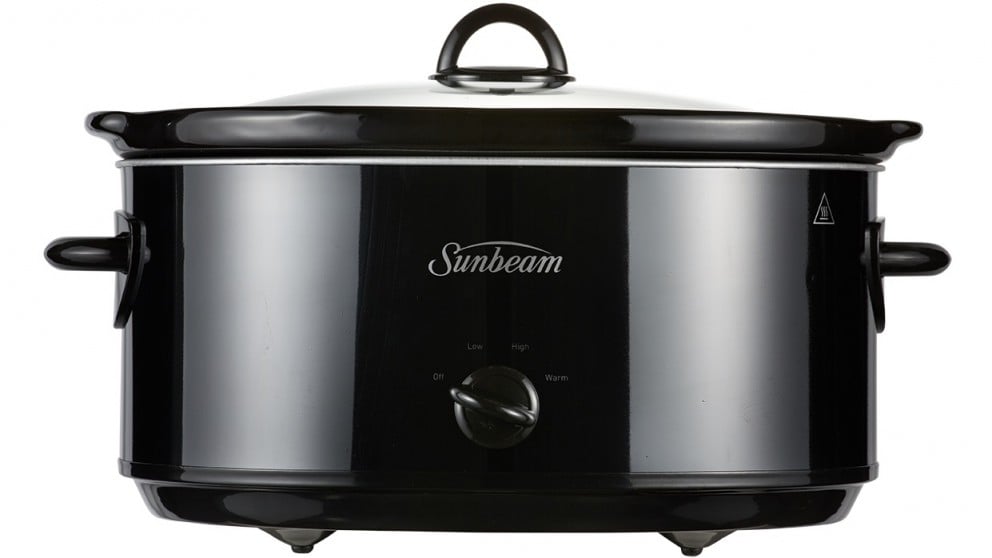 FEATURES
7.5L removable ceramic cooking crock.  Perfect for serving straight to the dinner table!  Allowing you to create recipes large enough to feed 10+ serves this is ideal for large families or any catering or celebration featuring a slow cooker in the kitchen!
The crock is also oven safe! Great for reheating your slow precooked dishes in an oven not exceeding 160 degrees Celsius
This cooker features a wrap around element surrounding the crock insert to ensure even cooking.  This also helps prevent food sticking and eliminates the need to stir for even heat distribution
The cooking crock and lid is also dishwasher proof so Sunbeam makes clean up easy!
Glass lid to allow you to peak into your culinary creation at any time without lifting it and letting heat escape
Easy to read and use turn dial for settings: LOW, HIGH & WARM
The wide, easy to grip cool touch handles make it easy to carry safely when hot
Comes with a 12 month warranty
Let's get cooking!
To test a large cooker I knew I had to start with something large!
Why not make use of all that space. I had to cook not one but TWO large Ginger Ale Silversides!
Usually one would be snug enough in a cooker but in the 7.5L Sunbeam SecretChef I could easily fit two x 1.5kg pieces of silverside side by side!
So not only did I have enough for dinner for a family of 5, but I also had enough sliced silverside for school lunches for the whole week and another nights easy dinner!  It was fantastic 🙂
Performance wise I couldn't fault the 7.5L SecretChef
Everything cooked well and to expected time frames
I was very impressed and wouldn't hesitate to recommend it to anyone looking for a large slow cooker!
Stay tuned because we'll soon be giving some lucky members the chance to WIN this great slow cooker for themselves!!!