Submitted by Karen Stuckings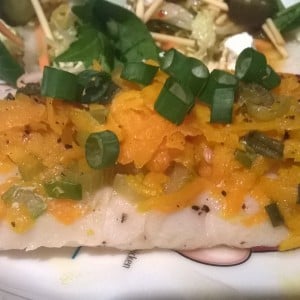 Summer Veg Fish Fillets
Ingredients
4 fish fillets (I used BASA fillets)

1 celery stick sliced

1 small carrot grated

1 shallot sliced (plus extra for garnish if wish)

8 teaspoons freshly squeezed lemon juice

2 tablespoons butter (cut into 4)

Ground black pepper to taste
Instructions
Put inch of water into sc and something to raise your fish out of water. I used rolled up foil strips. Place on high.

Take 4 sheets of baking paper and lay on bench. Sheets should be about 3 times size of fish.

Place one fillet on each sheet in the middle. If fish ends thinner fold over so thickness is even.

Spread celery, then carrot, then shallots over the fish.

Place one piece of butter on each fish.

Season with pepper.

Drizzle 2 teaspoons of lemon juice over fish.

Pull up sides of baking paper and make several folds to make a parcel.

Take ends and twist to seal parcel.

Carefully place in sc and cook on high for 1 ½ hours or until fish cooked. Should be easy to part with fork.

I served this with salad.

This was cooked in 5.5L cookwell.