Submitted by Ashleigh Clifford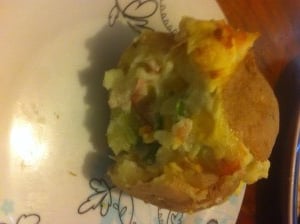 Stuffed Spuds (Stuffed Potatoes)
Ingredients
4 medium potatoes

2 strips of middle rash bacon

Approx 6 mushrooms

1/2 capsicum

1/4 cup of corn kernals

2 sprigs of shallots

1 celery stick

3 Tbls of sour cream

Salt and pepper to season

Olive oil or butter
Instructions
Wash and dry spuds, prick them with a fork several times to avoid them exploding and run th with olive oil or butter. Wrap them in foil and place them in the slow cooker and cook on LOW for 8 hrs.

Dice up all ingredients relatively small and set aside.

Once spuds are cooked cut a hole in the top and spoon out potato making sure you don't break them. Put extracted potato in a large bowl and mush with fork and stir in diced veggies, bacon and sour cream. Season with salt and pepper and gently spoon mixture back into the hollowed spuds and sprinkle with cheese. Wrap them in foil again but leave tops open and pop them back in the slow cooker for a further 30 mins or until cheese has melted. Bobs your uncle! Enjoy.