Submitted by Karen Stuckings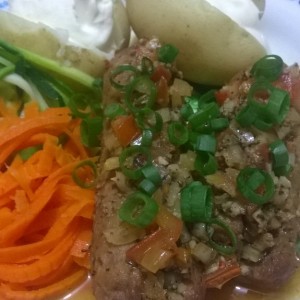 Stuffed sausages
Ingredients
6 thick sausages (I par boiled to remove skin and some fat)

1 tomato finely chopped

1/4 onion finely chopped

1 teaspoon crushed garlic

1/2 tablespoon mixed herbs

1 teaspoon toasted sesame oil

2 tablespoons honey

1 tablespoon soy sauce
Instructions
Slit sausages down the middle length ways 3/4 of the way through.

In a bowl mix tomato, onion, garlic, mixed herbs and oil.

With a small spoon carefully place mixture in the slits of the sausages.

Place in slow cooker.

In bowl mix honey and soy, drizzle over your sausages.

Cook on low with lid on.

Once cooked remove sausages and remove oil from sauce and drizzle sauce back over sausages.

Serve with vegetables or chips and salad.

This was cooked in a lumina 3L.